J Dog Studio was founded in 1995 and currently is located in Sebastopol, California. It is above all, a musical environment designed for musicians by a musician!
The Studio
J Dog Studio accommodates projects large and small. From piano/vocal duos to complete rhythm sections accompanying vocals and horns, acoustically recorded music sounds terrific here! Up to 16 simultaneous inputs can be recorded in up to 24 bit, 192K sample resolution. There are a total of 24 mic inputs in the studio, so setup for different recording configurations is quite flexible.
There is also a very large arsenal of electronic instruments, including rack mounted synths and software instruments and synths. Check out the listing on the right side of this page!
The studio rate is $75 per hour, but can vary by size of your project. The rate is the same for engineering, playing the piano, mixing or any combination of those! There may be a fee for setup and/or tuning the piano. Call or contact me for a custom quote - (707) 343-1119.
J Dog Studio is a musician's studio. Because John is an accomplished, professional musician, recording sessions here go far beyond the cables and mics. He brings his considerable musical expertise to the table and focuses on bringing out great performances, creating a comfortable, supportive and fun environment. Need a suggestion for a chord or a complete arrangement? No problem! Need to find a drummer, bass player or other musician? John has been a musician in the San Francsico Bay Area since 1979 and can easily find you the best musicians for your project and style.
John has engineered projects large and small, from musical theater and classical auditions to jazz, rock and roll and just about everything in between! And, as an accomplished pianist, John can accompany your singing, adding piano, organ or electric piano to your project.
Isolation Booths
There are 4 separate isolation booths in the studio surrounding the 400 sq. ft. main room. Each room has it's own Furman HD-6 Headphone monitoring box, so that each individual can tailor their own headphone mix. The first isolation booth can accomodate a large drum set. This room has a total of 6 microphone inputs. There is a large double door with double paned glass windows,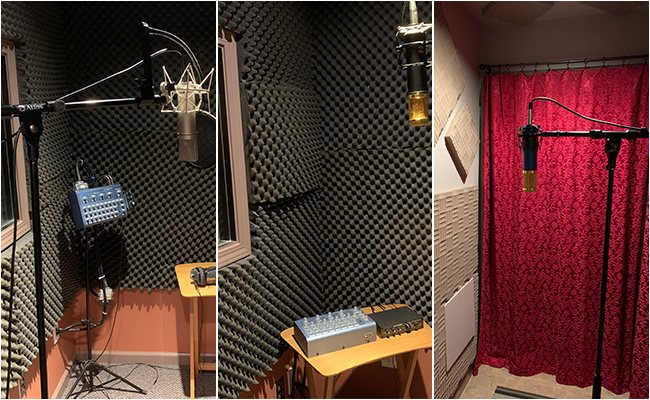 The walls between the 1st, 2nd and 3rd isolation booths are12 inches thick, built with several layers of sound channel and sound isolation materials. The windows are made of triple paned glass. Each booth has 2 microphone inputs. These are good for acoustic bass, vocals, guitar, brass and more.
The fourth isolation booth is on the opposite side of the main room. It has 2 microphone inputs, a solid core door with a double paned glass window. There is excellent line of sight between everyone in all of the isolation booths and the main room.
Samples from the Studio
Equipment
Yamaha C7 Concert Grand Piano
iMac Pro 18 Core, 64Gb of RAM
Up to 16 simultaneous Mic Inputs at 24bit, up to 192K Sample Rate
Focusrite Clarett 8PreX Thunderbolt 3 Interface - 8 Mic Pre's
Focusrite ISA828 - 8 Mic Pre's
Dynaudio BM-6A monitors
Dynaudio BM-9S subwoofer
Yamaha HS-5 Monitors
Furman HDS16 Headphone Mixers
Tascam CD-A550 CD and Cassette
Teac 3340S reel to reel 1/4" tape
Tascam 80-8 eight track 1/2" tape
Switchcraft Studio Patch 9625
Neumann M149 mics (2)
Neumann U87 mic
Neumann TLM103 mic
Earthworks TC40K mics (2)
Se Electronics Se5000 mics (2)
Sennheiser 421 mics (2)
Sennheiser 441 mic
AKG C451 EB mics (2)
Octava MC-012 mics (2)
AKG D112 kick mic
Audio Technica ATM25 kick mic
AKG C1000S Condenser mic
Shure SM57 Dynamic mic
Radial Pro D2 Stereo DI
Avensen passive DIs
Kurzweil Forte keyboard
Korg TR-Rack
Korg Wavestation SR
Alesis Quadrasynth S4 Plus
Oberheim Matrix-1000
Drawmer DL241 Compressor
Mackie Control MCU Pro
Logic Studio Pro X software
Waves Mercury Software Suite
Autotune Pro software
Native Instruments Komplete 13 Collectors Edition
Arturia V Collection 8.0
Ivory Grand Piano
Spectrasonics Stylus
Spectrasonics Omnisphere
Spectrasonics Keyscape
WaveLab Pro 10 software
Finale notation software
Digital Interface
Audio production is performed on an 18 Core iMac Pro using Logic Audio Pro with a Focusrite Clarett 8PreX and Focusrite ISA828 Mic Preamps. John has years of experience with Logic, dating back to 1995. He is meticulous and fast, an expert at blending multiple takes into a seamless whole. From the mics to the mix, you will benefit from John's sharp ear and efficient computer expertise.
Yamaha C7 Concert Grand Piano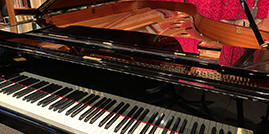 The centerpiece of the studio is a Yamaha C7 Concert Grand Piano. It has a sweet sound well suited for both jazz and classical music. The action has been regulated and the piano is meticulously cared for.